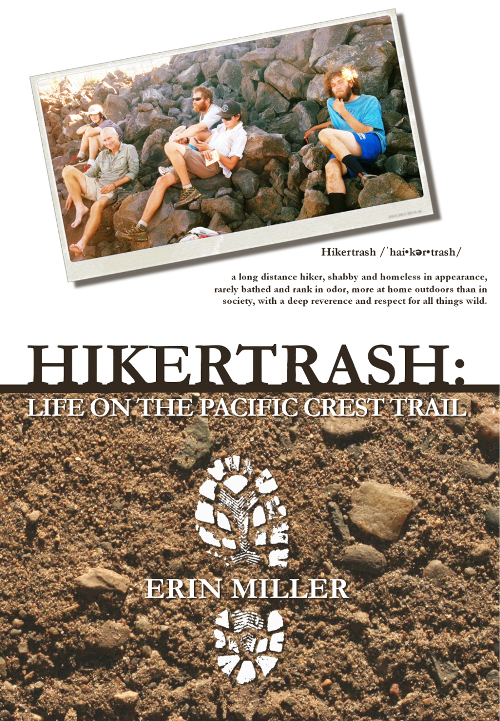 ABOUT HIKERTRASH
Teetering awkwardly on the brink of insanity, unable to handle life in snowy, cold, ultra-conservative North Idaho, Carl and Erin sold their house and set out in search of a new place to call home. Suddenly finding themselves completely free of responsibilities, jobless, and with a little spare cash in the bank, it didn't take long before their serious search for a new life took some unexpected twists and turns.
"What do you think we should do when we return to the States?" Erin asked Carl, as they sat outside a tiny café sipping coffee. It was a question that had been plaguing her for weeks as they budget traveled across South East Asia in an attempt to avoid winter (and reality).
"I've been thinking about it, and I think we should thru-hike the Pacific Crest Trail." Was Carl's totally unexpected reply.
Spend months on end traipsing through the wilderness, petting bunnies and chasing rainbows, as they hiked 2,660 miles from Mexico to Canada? How could Erin possibly say no? Life Rule #1: Never, ever, turn down an adventure.
Friends wagered they wouldn't last a week, but before they knew it, days turned into months as they made their way across America at three miles an hour. As Carl and Erin morphed into Bearclaw and Hummingbird, they found that being hikertrash suited them.
Though they will both admit the trail was life-altering, there were no great epiphanies, no magic answers to all of life's burning questions, no "ah-ha!" moments when suddenly life made sense. This is not a tale of personal growth.
Through blisters and shin splints, jaw-dropping landscapes and craptastically unspectacular forests, searing heat and pouring rain, complete hilarity and utter exhaustion, this is the story of what day-to-day life is really like on one of America's greatest trails.
As told through Hummingbird's journal entries, this is the story of life on the trail – the people you meet, the things you see, and how, mile by mile, you eventually become Hikertrash.
Includes:
• 6 Overview Maps to Follow our Journey
• 19 Black & White Photos of Sights Along the Trail
• Leave No Trace Tips
• Our Gear Lists
• Our Trail Recipes
What Is Hikertrash?
Hikertrash: a long distance hiker, shabby and homeless in appearance, rarely bathed and rank in odor, more at home outdoors than in society, with a deep reverence and respect for all things wild.
REVIEWS
"Erin Miller is a good writer and her energy and enthusiasm for the PCT are contagious. This is a vivid, lively and true-to-life portrayal of what it's like to be a thru hiker on the trail. The description is compelling with nuanced detail and the reader becomes absorbed by the adventure." – A. Stone | Amazon
"Absolutely loved this book. I'm planning my pct thru hike for 2017 and this was a fantastic read. Lots of fun, pain, struggle, success, and motivation. I hope I run into people just like those in this book on my trip. I highly suggest giving this a read if you are planning on becoming a wondering vagabond hell bent on accomplishing what most people would call "crazy.""– Trey | Amazon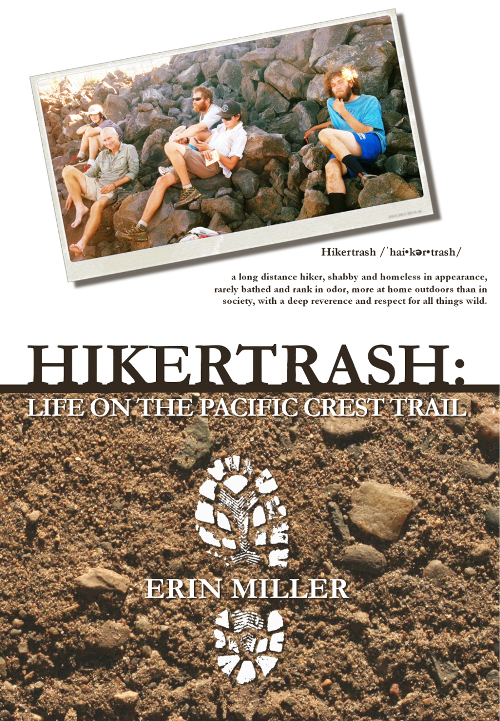 "I've been having fun reading the PCT journals of thru hikers. This one was a pleasure! It is an amazing thing that happens and the transformation that takes place in each hiker. They are not aware of it as it occurs, but if you listen to the narrative there is a slight shift. And physically they are changing too. I do not have any cred. to suggest that hiking the PCT cause a transformation in ones life. But, it certainly had a profound effect on the life of Hummingbird, and other thru hikers as well! This is a fun read and I thank Hummingbird for sharing her experience!" – Anonymous | Barns & Noble
"Great intertwining of trail description, social interactions, and inner thoughts/feelings. The format of the book made for convenient stopping points even if I only had a few minutes to pick it up. Great story!" – B.Budden | Goodreads