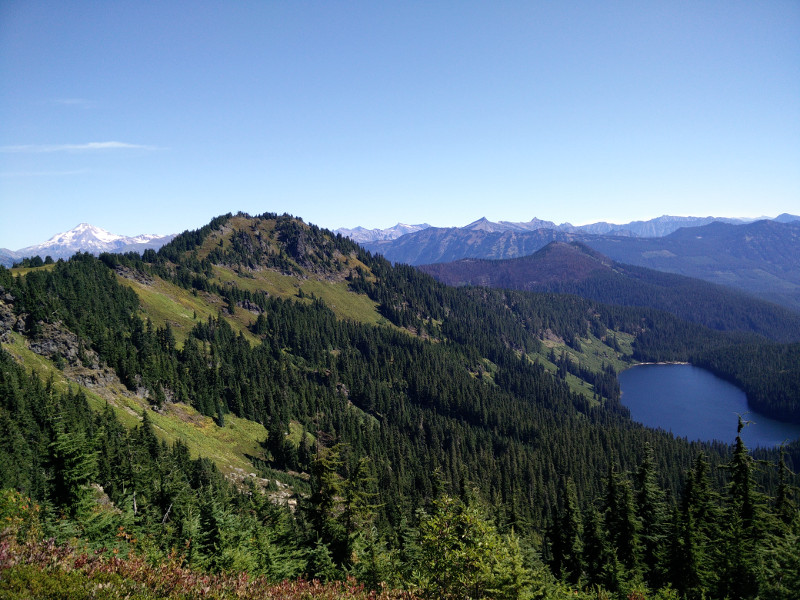 Friday, August 7, 2015
Day 7: Janus Lake to Mile 2,498.4
Miles: 18
Total Miles: 2,498.4
Miles to Go: 168.81
Up early, I sat on the edge of a log and watched the mist roll off Janus Lake, as breakfast cooked. The fog slowly lifted to reveal a perfectly mirrored image of the surrounding hills.
A friendly Clark's Nutcracker flitted around my head, landing on nearby branches and rocks, hoping whatever I was making would be shared. Blindy, the one-eyed squirrel, ran in little circles near my feet, close enough for handouts, but far enough away to feel safe.
I wondered at this little squirrel; how he had lost his eye, and how much more difficult his survival would be with this disadvantage. Even though I knew I shouldn't, I tossed them both a few scraps of oatmeal. Something about sitting there, in the quiet morning, surrounded by forest animals, made me feel a little bit like Snow White, only less clean and dainty.
Reluctantly saying goodbye to my tiny one-eyed friend, we left Lake Janus and began to climb towards Grizzly Peak. The higher we climbed, the more the views opened up, and soon white-capped peaks were poking up behind the jagged green hills in nearly every direction! Everywhere we looked was postcard perfect – rolling green meadow, met steeply forested hills, that ended in distant white peaks jutting into a cloudless, bluebird sky. Suddenly, a small part of me was happy we had not made it to the end of the trail in 2013 because we would have missed all this beauty in our race against the looming grey of fall in Washington and the impending winter; what a shame that would have been.
Rounding a corner, Glasses Lake sparkled cobalt blue in a forested bowl far below the trail; ahead, Glacier Peak loomed in the distance, it's glaciers reflecting the brilliant mid-morning sun. My heart sang a song that it had not sung for far too long.
Past Glasses Lake, we entered a long meadow, chock full of ripe huckleberries. Bearclaw and I meandered through, picking fistfuls of berries as we went. Halfway up the meadow, we found Krav, pack off, sitting in the middle of a giant huckleberry patch just off the trail. When he saw us, he turned and smiled; his smile so blue it rivaled the August sky.
We rounded Grizzly Peak, and the views just kept on coming. We stopped briefly for water near the Top Lake Trail Junction and debated having lunch. The junction itself was nothing special, and there was a large lake a half a mile or so up the trail, and so we decided to continue. It was the right choice!
Deep, crystal clear and frigidly cold, Pear Lake was tucked into a talus and pine tree lined bowl just off the trail. We worked our way down to the shoreline and found some large boulders to lunch on. There we met thru-hikers Crow and Lady Bug. Crow and Lady Bug told us all about the Goldymire Hot Springs they had once caretaken.
It sounded pretty sweet and almost made us wish we had taken the Goldymire Alternate out of Snoqualmie… But then we wouldn't have been on the PCT, and that is what our hearts had truly wanted.
During lunch, we decided to make Lake Sally Ann, nearly nine miles further up the trail, our goal for the evening.
In crazy thru-hiker shape, Crow and Lady Bug vanished within minutes; they were the only people we encountered, and besides a crazed deer we met at Saddle Gap, we had the trail completely to ourselves.
We dropped down to Pass Creek late in the afternoon and stared up at the 1,200-foot climb on the other side. We were tired, and not at all motivated. On the other hand, the thought of starting a new day with a 1,200-foot climb seemed somehow worse. Deciding to go for it, we ate dinner at the creek in preparation for a late night.
The sun had sunk behind the distant mountains, and the last of the light was fading when we decided to call it a day. We were still a mile from Sally Anne, but we were exhausted, and no one relished the idea of stumbling into camp well after dark.
A five-minute search revealed that the only semi-flat, non-rocky piece of ground in the area was a craptastic space in a dense thicket of gnarled trees. It was barely big enough for one tent, but we were wasted, and so we guessed it would do. Pitching our tent, the three of us crammed in and instantly feel fast asleep.