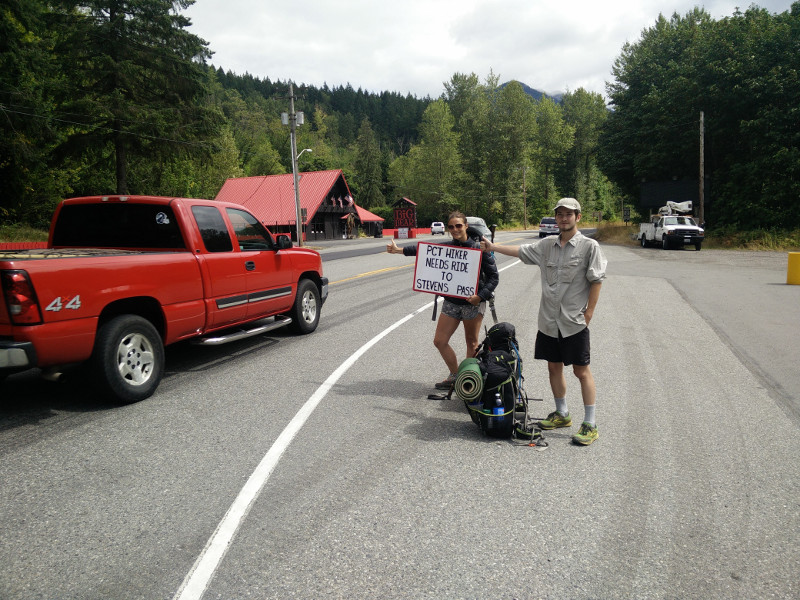 Day 6: Dinsmore's Hiker Haven to Janus Lake
Miles: 9.75
Total Miles: 2,471.37
Miles to Go: 187.54
It didn't rain overnight— it poured so hard that, even pitched under the enormous old-growth fir tree in the Dinsmore's backyard, the outside of the tent was drenched when we woke up. We packed up as best we could, lying the tent in the misty morning in the hopes it would dry out a little before our departure. Nearly ready to go, we moseyed on into the bunkhouse to see if Krav was ready to roll.
The night before, Joe had told us he would be heading into the little restaurant in Skykomish for breakfast around 9 a.m. and would give anyone ready to go a ride into town for breakfast (and a better opportunity at a hitch.) It was already past eight o'clock and food, and a ride halfway to the trailhead sounded too good to pass up.
Krav sat on the end of his bunk bleary-eyed, staring at his resupply box.
"Hey, Hummingfarts…" Krav smiled.
"Hey, Krappypants. We need to leave in like thirty minutes dude." I gave him my best "kick it into high gear" look.
I'm not sure where or when it first began, (Oregon I think..?) but Krav had started calling me Hummingfarts, a name, unfortunately, that was well deserved most of our days on the trail. I, on the other hand, had dubbed him Krappypants, in homage to his bout with Giardia. I had nearly forgotten about this until I had read his logbook entry the night before and there in big letters was my name, "Hummingfarts."
I retaliated with a "Krappypants" honorable mention directly below.
Saying a bittersweet farewell to our wonderful host and celebrity trail angel Andrea, we piled into Joe's truck with a handful of other hikers and cruised up to the Cascadia Inn for breakfast.
I'm not going to lie to you. In the two years since our attempted thru-hike, I had put on like twenty pounds…maybe more. Thru-hiker eating and desk sitting were ruining me.
"Maybe if I'm really good, I can lose ten pounds on the trail," I'd thought before we started this last stretch. But now, staring at this menu full of tasty bacon and sausage goodness, my thru-hiker "eat everything in sight" mentality was back with a vengeance. Nahhhhh, I was going need those bacon calories before the day was out.
Leaving the Cascadia Inn with Poco Loco, we headed back to the intersection near the highway. On the corner, was a little deli with a drive-thru window on the side, and a long covered seating area out front.
"Hey, you guys thru-hikers?" We heard from out the drive-thru window. "Come here!"
Walking up to the window to see what was up, the women passed out a sign.
"Just be sure to bring it back when you get a ride," she smiled.
On the sign in big black letters were the words, "PCT hiker needs ride to Steven's Pass." It was bordered in eye-catching red. Now this, was genius!
Poco Loco went first, and with the help of the fancy sign, vanished within minutes. Krav, Bearclaw, and I stood, thumbs out, sign up for less than ten minutes when the tiniest car humanly possible pulled up and offered us a ride.
The driver was thru-hiker alumni, having hiked the trail in 2009, he was more than happy to get us to the trail. The trunk, which already held his small daypack, just barely closed with Bearclaw's backpack in it. Krav, myself, his backpack, and mine crammed into the backseat. The tallest, Bearclaw folded himself into the passenger's seat next to the driver.
Knees pressed up against the back of Bearclaw's seat, backpack on my lap, I could barely breathe. I tried to turn my head to see if Krappypants was fairing any better. Head skimming the roof, pack up against his nose, he took one look at me and burst out laughing. Then, he whipped out his phone and took a picture to show me what was so funny.
Head pinned against my pack my sunglasses were askew; I looked like a crazy person. I whipped out my phone and took a photo of Krav; giving me crazy side-eye. And then we lost it; gut-splitting, childish, impossible to contain laughter.
"You guys okay back there?" Even more laughter.
"Yup, nothing to see back here." We were roaring.
Unfortunately, the longer we laughed, the more uncomfortable our driver seemed to become. With no idea what was so funny, Bearclaw tried to cover for us with conversation. We laughed nearly all the way to the trailhead.
"What was that about? I think that guy thought you were laughing at him…" Bearclaw asked, confused. Krav whipped out his phone and showed him my photo. It didn't need an explanation.
We were just crossing the highway when Krav remembered he forgot to buy a staple – his weekly supply of bread. Turning around, he ran to the small store at the Steven Pass ski area to see if it was open. Bearclaw and I lounged by the PCT trail board. We had told Poco Loco we would try to catch her, but at this point, it seemed unlikely. Eventually, Krav made it back, swinging a loaf of bread alongside him.
The trail was pleasant enough, but none of us were particularly motivated. We stopped here and there to pick blueberries, filtered water for longer than necessary at a rocky little creek, and eventually found a lovely meadow near Valhalla Lake where we stopped for lunch and an extended nap in the afternoon sun.
At the ridiculously calm and serene Janus Lake, we found a secluded campsite and decided to call it a day. It was early, and we hadn't even made ten miles, but we didn't care. Bearclaw laid down with a book, Krav disappeared into his tent to do whatever a Krav does, and I sat next to the perfectly still waters and contemplated life on the Pacific Crest Trail and what it would feel like to finally make it to Canada…