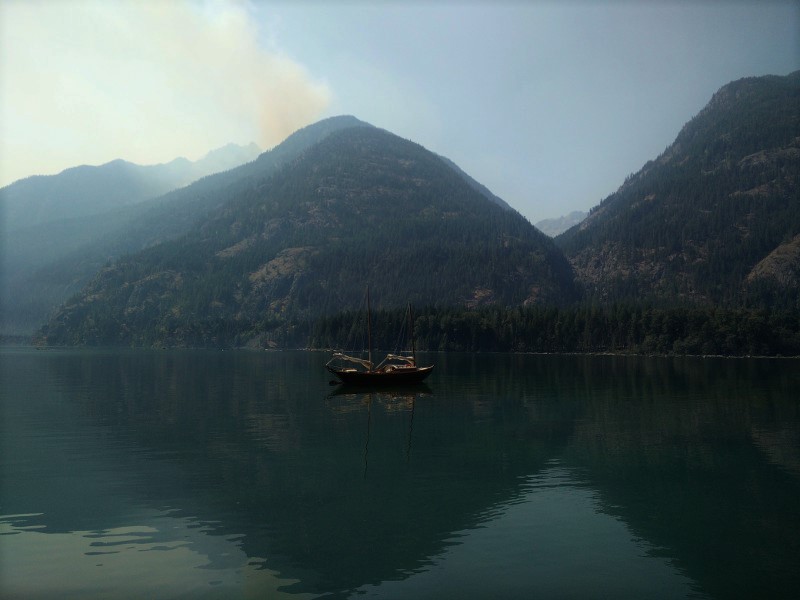 The party was over; Krav and Littlefeet needed to be getting home. Krav had to be back at work, and Littlefeet needed to wrap his brain around life after the trail.
Bearclaw and I still had a few days of vacation left and had decided we would head back to Rainy Pass and hike south to Stehekin. Bearclaw loved ferries. Stehekin and the three-hour ferry ride on Lake Chelan had been on his "must do" list since we had initially started planning our thru. To say he was disappointed we had missed it was an understatement.
The fire closure technically only encompassed the area from the Suittle River Trail where we had exited to get to Sedro Woolley to Stehekin, but the offical detour skipped the entire section because there was no way to get back to the trail anywhere before Rainy Pass. Since our car was parked in Blenheim, which could be accessed by the far side of the lake, it seemed like a great way to prolong the trail while slowly working our way back to the car. The trail had been such a huge part of our lives for the last three years, that we were having a hard time letting it go.
Dad and Marianne still had a few days before they needed to head north for a family reunion, and generously agreed to use that time to make another loop south of the border, to drop us all off where we needed to be.
We left Manning Park midmorning and began the journey west towards Vancouver. Along the way, we made a handful of stops – namely to read roadside signs and to get coffee and breakfast from the Canadian institution that is Tim Horton's. If you're at all Canadian, "You've always got time for Tim Horton's." This was no exception.
Despite having four dirty hikers in the backseat of the van, the border crossing was surprisingly easy. All of us were more than a little disappointed that the border agent barely even glanced at our PCT border crossing permits. After all, three of us had gone to great lengths to make sure we had them, not once, but twice.
We dropped Krav and Littlefeet off at the train station in Bellingham so they could make their way south. Saying goodbye to trail family is never easy, but at least this time it wasn't saying goodbye in defeat. Together we had persevered, and despite the odds, we had won. This was a happy goodbye. A "screw Washington, we did it" goodbye.
Dad, Marianne, Bearclaw and I continued back towards Rainy Pass, stopping and playing tourist along the way. Eventually, we stopped at the Goodell Campground and set up camp under the giant trees along the banks of the Skagit River. While we admired the trees, we also feared for them and debated how flammable they might be.
Across the Highway, the mountainside was on fire. The campground host was "keeping an eye on it" because there was no one left to fight it. All of Washington was on fire. Entire towns were being evacuated. There just wasn't any manpower left.
"Should we be worried?" We asked.
He assured us, we would be the first to know if we were going to be evacuated. We were the only people in the park, so we hoped so.
The air was still. Not so much as a whisper of wind was blowing, and so we relaxed and enjoyed the opportunity to spend some more quality time with my dad.
We had a leisurely morning, making it back to Rainey Pass at midday. Saying "good-bye" to dad was hard, I love my dad. We tried to convince them to join us, but they didn't have any gear, and the four of us were not going to fit in our little three man backpacking tent. One last hug, and then we disappeared into the forest.
Our goal was 14.31 miles to Bridge Creek Camp. This seemed more than doable, seeing that it was a downhill run the entire way.
The trail was pleasant as we wandered in and out of the forest and overgrown avalanche shoots. The views were lovely, the weather was warm and dry, and the trail was smooth and long. More than once it occurred to us that if we just kept walking, we could be in Mexico by winter. If only there were no such thing as work or money.
We passed precisely four people, all thru-hikers, all headed North. The first was a trip. He passed us by, and then stopped and turned as if he knew us. He looked familiar, though maybe it was just because he was lean, dirty, and bearded. A look we had become rather fond of.
"I know you guys!" He said. "Hikertrash!"
I smiled and laughed. Hikertrash for life, yo.
The second man, an older gentleman, came shuffling up the trail a few miles later. A small radio around his neck was playing what sounded like Korean classical music.
Wait. I knew this guy! No way! Every year, I followed the journeys of a handful of through-hikers. Some of them didn't make it, some of them did. Either way, it was fun for me to get their perspective on the trail. This year, I had been following the story of an older Korean gentleman named "Thermometer." He never blogged, at least not that I was aware of. I knew of him because his daughter had been keeping track of him on the PCT Facebook page. Her constant concern and pride had piqued my curiosity. Every week I looked for her posts, hoping he was still on the trail, that he was well, and that he was happy. For three weeks, I had not been online and every now and then, I found myself wondering if he was still out there somewhere and whether or not he was okay. I was positive this man had to be Thermometer!
"You're Thermometer!" I fangirled.
"No English." He said slowly, moving his hands apologetically.
I pointed at him and tried again, only more slowly, "You're Thermometer."
A huge grin spread across his face. He nodded and stuck a hand to his chest.
"Yes, Thermometer!" He laughed.
I had met Thermometer! He was less than a hundred miles from Canada. Baring all unforeseen circumstances, he was going to make it! This made me even happier than being recognized for Hikertrash.
The next thru-hiker was a man in his early twenties. He bragged to us about being one of the only people to have continuous footprints that year. He had said "screw it" to the fire closure and walked through anyway. The trail, he informed us, was not even on fire. The fire was on the other side of the river. Bearclaw asked him what he would have done if the wind had picked up and the fire had jumped the river. He informed us fires did not cross rivers. There was a lot I could have said to this, but you can't fix stupid, so instead, we wished him luck and continued on up the trail.
The last hiker we met just before camp. She had taken the ferry to Stehekin and was continuing North from there. She had all the confident arrogance of a seasoned thru-hiker and was happy to give me, a lowly section hiker, a little attitude. I couldn't blame her. I knew that confidence arrogance well; it was hard earned. Truth be told, I kind of missed feeling like a badass.
We had Bridge Creek Camp entirely to ourselves. We were only five miles from Stehekin, so this was understandable. Any thru-hiker leaving town would be miles up the trail before they made camp for the night, and the fires and backcountry closures were keeping away most of the section hikers, day hikers, and weekend warriors.
Eating an early dinner, we lazed around camp, trying hard to get the most out of our last night on the trail.
In the morning, we finished off the five miles to the High Creek Ranger Station just in time to catch the first shuttle bus into town. From High Bridge to Stehekin was eleven miles, and while we could have road walked, a ride only cost seven bucks. At precisely ten o'clock a cherry red l 1930's tour bus pulled up to the old ranger station. We were the only occupants.
Stehekin was not much of a town and yet it was perfect. Located on the northernmost shore of the fifty-mile-long Lake Chelan, the only way to get there was by boat or plane. Although there were twenty plus miles of road in and around town, none of them led to the outside world. All of the vehicles in town had been brought there on the ferry, and consequently, a lot of them were ancient, and nearly all of their tags had expired decades ago.
The town itself consisted of a handful of hotels and restaurants, a Forest Services Headquarters building, a small store, a tiny post office, an organic farm, a handful of quaint lake houses, the ferry dock, and the most ridiculously perfect bakery in all of North America. If I were looking for a place to survive an Apocalypse or permanently depart from society, Stehekin would be a serious contender.
Usually packed with tourists, the town was nearly dead. We had it almost entirely to ourselves. On the Stehekin end of the lake, the Wolverine fire was raging across the water. From our camp, we could watch the flames crawl up the mountainside. On the south end of the lake, the Chelan Complex fire was raging out of control.
Bearclaw and I spent the afternoon and the following morning seeing everything. Doing so kept us surprisingly busy, as there was an awful lot packed into such a small area, and no transportation to speak of, other than our feet.
In total, we spent twenty-four hours in Stehekin. As adorable and serene as it was, and as wonderful as the people had been, it was time to return to reality. We wandered over to the docks to purchase two tickets to Chelan. Standing in the small line, a man wandered up behind us.
"You guys need a ticket?" He asked.
"We do," we responded.
"Here," he said handing us a ticket. "We thought an extra was coming with us, but they changed their mind at the last minute."
We offered to buy it, but he insisted we just take it.
The ferry ride was nearly three hours long, making stops at small outlying communities and private residences at it made its way down the lake. The community of Lucerne had been evacuated, and as we drifted by, we watched the smoke pour off the surrounding mountainsides, creeping ever closer to town.
The closer we got to Chelan, the thicker the smoke became, and an infiero engulfed the surrounding hillside. Powerless to do anything, we watched the world burn. Would Chelan even be there when we docked?
The man who had given us the ticket struck up a conversation with Bearclaw. He had once had something to do with forest fire assessment, and he was more than happy to talk fire. When Bearclaw told him we had just finished hiking the PCT and were now working our way back to our car in Blenheim, he offered us a ride.
"Providing my truck is even still there," he added.
We laughed, but he wasn't joking. He had heard from a reliable source that the fire had burned all the way into Chelan and that some of the vehicles in the ferry parking lot had been destroyed. There was a distinct possibility that his vehicle was one of them.
Pulling into the dock, the edges of town had indeed been scorched black. His truck, however, was unharmed and before we knew it, we were on the highway, barreling back to reality.
This was not a sad trip back to reality though. There were no tears. We had finally completed the Pacific Crest Trail. It hadn't been how we'd hoped, or how we'd expected, but it had been exactly the way it was meant to be.
Our story had an ending. I could finally close this last chapter.
That is not to say this adventure would ever be forgotten, or ever even stray that far from my mind. This thin ribbon of dirt that connected Mexico to Canada had spoken directly to my soul, and that is not something you ever forget.
I knew that memories of life the Pacific Crest Trail would forever be tinged with the romantic glow of the summer sun filtered through the pine forest. If I lived to be a hundred, I would still be able to close my eyes and smell the scent of the summer rain hanging in the desert air and feel the wind of the high mountain passes caress my face. Not if I lived to be a thousand, would I ever forget what it felt like to stretch out my wings and fly, as light as a Hummingbird, down the trail.
The trail and my soul were forever interwoven and this knowledge made my heart immensely happy.